Two Traditions Merge
Lexington Catholic High School represents a long tradition of Catholic education in the Bluegrass
region. The school was formed in 1951 through the merger of two secondary schools, St. Catherine
Academy (founded in 1823) and Lexington Latin High (founded in 1924). The photos below were taken
just prior to the destruction of the old building.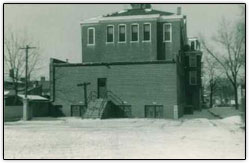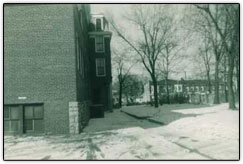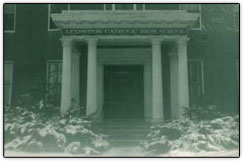 (photography courtesy of Jim Murphy '56)
.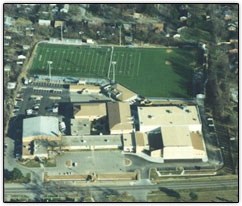 LCHS moved from its location on Limestone Street to its new and
current home on Clays Mill Road in 1957.
The school crest is a simple design embodying the ideals and principles on which the school is founded.

The lamp of knowledge on top of the emblem symbolizes the school, to which the students turn for help and guidance.
The shield joins the four main principles around which school life centers:

The dove symbolizes the truth of God around which the Catholic faith revolves.
The "M" stands for Mary, Mother of God, through whom all of our actions are performed.
The plumed helmet represents the knights and ladies whose virtues the students are expected to emulate.
The knot symbolizes the state of Kentucky. This emblem of binding union was chosen because of the state motto, "United we stand, divided we fall."
The LLH and the SCA on either side of Lexington Catholic represents Lexington Latin High and Saint Catherine's Academy. Lexington Catholic was formed from the merging of these two schools.

In 1954, assistant principal Father Kampsen developed these ideas for the crest. In collaboration with Sister Bernadette, SCN, he transferred the ideas to paper. The seal was adopted as the official coat-of-arms that year, and can be found on the senior rings from 1954 to the present. Lexington Catholic adopted this updated version of the crest in 2000.